Norwegian Plans to Increase Transatlantic Intervals from Ireland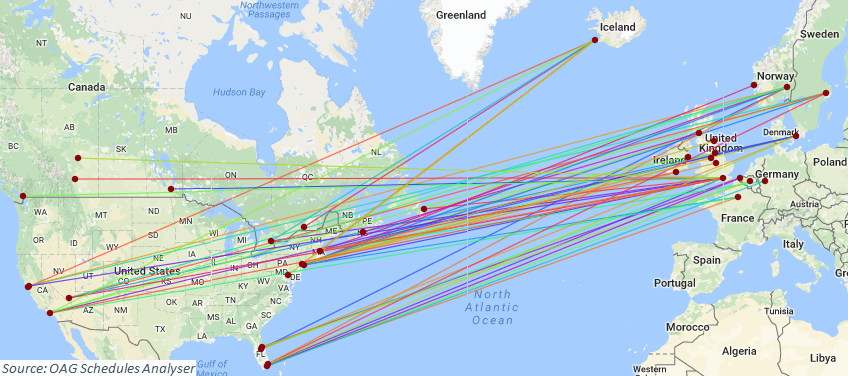 The Norwegian airline which is conveniently named Norwegian has announced that it will be expanding its 2019 spring and summer schedules. This expansion will see the airline boosting its flights from Ireland to the US and Canada by 37%. As part of the new schedule, the airline wishes to boost its transatlantic frequency from Ireland. As of 31 March, Norwegian will feature a schedule that includes 40 weekly flights to airports across the US as well as to Ontario Canada, with sights on adding more cities to the flight roster in the months to follow the new schedule.
ILow-cost Transatlantic
The airline's new initiative will be carried out by their brand new B737 MAZ aeroplane. The aircraft has been stylishly designed with all the latest in aerospace engineering technology and advances. The plane carries 189 seats that are all equipped with new accessories including belts, slimline plane seats and other features to ensure the comfort of the passengers. These features and upgrades which further include more leg room are designed for the highest comfort to come as a huge welcome considering transatlantic flights from Ireland to North America can take about 13 to 15 hours.
Other Flight Offers
The decision to expand its flight schedules could prove to be rather profitable especially with the addition of three flights on a weekly basis flying between County Cork and Providence, Boston. Having flights from a smaller county offers flyers more options and could be lucrative. According to the CCO of Norwegian, Thomas Ramdahl, the addition of these flights allows the airline to meet its demand and possibly create more demand. Other additions by the airline include a flight from Dublin to Hamilton airport in Toronto Canada as well as to Stewart airport in New York. The expansion is something the company is excited to see a rollout, and are eager to see how it will be received.